Bollywood is known for its frivolous ways of showcasing – dramas, emotions, stars' tantrums, struggle, their mistakes & progressions, the emergence of new thoughts and of course, designer clothes. When we talk about the Bollywood designer dresses and their lavish ways of presentation, Bollywood style lehenga comes at the top of the list. The industry has a countless number of experienced and famed designers whereas celebrities who urge for something unique and out of the box, they hunt for budding designers.
Regardless colour, length, sassiness, designs, patterns, prints and symbolising different traditional motifs, the lehengas are available in prolific ways. Decide your occasion and mood for the wear, you'll definitely get the exact piece to envy others when you will buy online lehengas. And here are the top 4 Bollywood lehengas that will make everyone envious.
Alia Bhatt – The Cutest Star
The youngster has a new way of draping and adapting fashion in the Bollywood industry. While throwing many Box office hits such as Student Of The Year, Dear Zindagi, Highway, Kapoor & Sons, Alia Bhatt is on the way to the next biggest superstar in the industry.
With an exquisite choice of selecting scripts, she definitely has a great choice for her dresses as well. Be it western or traditional collections, both are amazing in their own way. Look at the beautiful piece of abyasachi Mukherjee's designer lehenga that she wore for a shoot. And the eclectic pastel colours are simple enough to make everyone envious. The net soiree and intricately woven floral patterns are completely captivating. Isn't it?
Sonam Kapoor – A Fashion Icon
Hats off to the fashion icon, Sonam Kapoor who has shown her mantra to the international crowd as well. Every time she has donned her fashion clothing in a way to make others saluting her.
If you wish to blend the lehenga style with a suit, here is the way from Sonam Kapoor on how to do it like a pro. She wore this grey kurti with bronze lehenga skirt and finished off her complete look with nude yet dark eye makeup.
Jhanvi Kapoor – The Uprising Star
Every girl wishes to appear like a princess at a special event. Now you can do as you as you wish by taking inspiration from Jhanvi Kapoor, the princess of Bollywood queen, Sridevi.
The sultry nude peach colour is a piece to admire by everyone and she donned it perfectly with same coloured eyeshadows and contrasting lip shade. Another star to this Bollywood style Lehenga is the feathers attached at the bottom of the flare which make this dress completely ethereal.
Deepika Padukone – The Reigning Star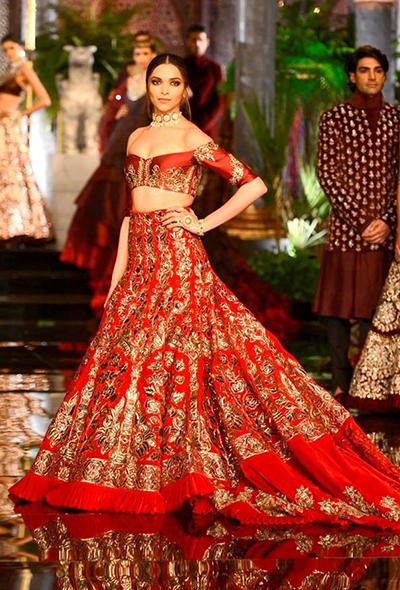 Deepika Padukone is one of the biggest superstar reigning in the Bollywood industry today. She knows how to maintain the prestige of her way by choosing internationally praised dresses. Mostly glued with athleisure clothes, she is the one, who never fails to win the heart by wearing traditional dresses as well. The same she did by being the showstopper of Manish Malhotra's and wearing the Persian pattern inspired Bollywood Lehenga.
Swearing to an ethereal collection of Indian traditional hues and patterns, Manish Malhotra is one such gem that Bollywood has to boast to the world. Reflecting a sense of grandeur, this mysterious red coloured lehenga with a long train behind and sassy off-shoulder cuts give every reason to buy online lehengas right now. Isn't it, girls?