Gifts for stationery lovers: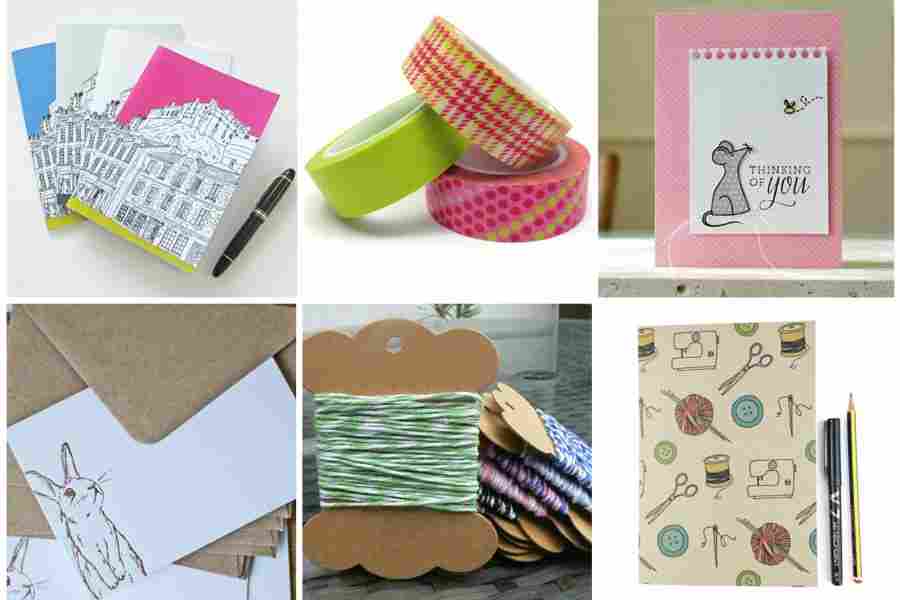 As kids, we have all received gifts like a pencil box, crayon set, drawing books, etc. and we used to love it so much that we could not wait to flaunt it in the school to all our friends. And then when we are in our primary school we can't wait to start using pens, remember how cool we thought it was to use a pen instead of a pencil?! Eventually, most of us grow out of it, but there are a few who are still crazy about stationery (including myself!).
Today we will talk about the kinds of gifts one can give to stationery lovers, mind you, these people are mostly well organized and one cannot dare to gift them a multi-utility stationery gift, they like to use items specific to its utility (sorry, not sorry!) Without wasting any more time let's start with the list of items that are the best Gifts for stationery loving friend/loved ones-
Journal/ Notebook
If you are a true stationery lover then you know that one book/ journal is not enough. There has to be one for different uses like a cute abstract art journal/ fur cover journal for daily journaling, a planner for to do's, a small book placed bedside to write down any amazing idea that pops up in your mind at 2 am at night, a notebook for work, and a travel journal to write everything about your experience and places to visit. And sometimes you just buy one and decide about its purpose later 😉
Journals/Notebooks/Planners are very affordable that means you can give the best gift without hurting your pocket! There are many types of journal-like fur cover, leather cover, personalized cover, sequin cover and even some with blank covers where you can show some of your creativity and give it a more personal touch. This one can never go wrong so if you are confused as to what to buy then this one is on the safer side. These are easily available of e-commerce sites like Amazon, and you can find a lot of Instagram pages too.
Basics: Pencils, Pens, Erasers, sharpeners, etc.
As stationery lovers we like to be prepared like always, we will not wait for the refill to finish but prefer to have back-ups and options always ready. A pen set with a range of colours and some cute pencils not just help us in noting things but they add some much aesthetic to the workspace. Those who prefer writing over typing will relate to this fact of using different pens/pencils for different journals/notebooks. We like to segregate, categorize, and put perfect headings with the right font type and size for each subject/topic/project/to do's… and the list is never-ending. These can be clubbed with a good sharpener and eraser set. Each one complementing the other and it will surely be considered a thoughtful gift. Easily available online and offline, quirky looks, some even eco-friendly and never underrated!
This one is my personal favourite and a must-have! A cute message lightbox on the desk will light up your space and also can be used to write quotes, to-do's, or just a self-reminder for yourself!
Customized stamps are so beautiful and you can get it done very easily. It will be a bit on the expensive side but it is a one-time investment. Just imagine writing letters to your friends and adding stamping it to authorize your love for them. If your friend/loved ones are artistic then they can add their signature on their pieces using this stamp. It will be so special and just a heads up maybe the one gifting it will receive more stamped notes/letters/ art pieces! Gifts for stationery
Flip calendars can be customized depending upon your taste and liking. It is always good to have something on the desk that reminds you of happy memories! Other than marking important dates they are good substitutes to photo frames as well because you can have 12 different pictures on your calendar one for each month. There are some very simple and easy steps' DIYs to make your own calendars but if you have time then there are many online pages and artists that illustrate some amazing art for their calendar collection. One of the well-known artists is Alicia Souza, she has her own website and she creates some very amazing products ones which you can't resist buying. Instagram will give you tons of suggestions for this as well, so all you have to do is pick your style and place that order preferably at the beginning of a year!
Desk or no desk we stationery crazy people always carry a stationery pouch, yes! Even in this digital time where no one bothers to carry an eraser or ruler. But tell me one thing, when in need we are your saviours (You're welcome!:D).
Ok, but when you search for stationery pouches online don't search for "stationery pouches" rather go for only "pouches". It is just to have many options and any pouch can be used for keeping stationery items given it has enough space, portable, and most importantly should speak your personality (Don't judge! It is true).
This way you can find varieties, plastic pouches, cotton pouches, eco-friendly/ up-cycled pouches, etc. Listing down some pages/websites which you should definitely check out,
reCharkha- The Eco-social Tribe (up-cycled plastic)
Jaypore (Handcrafted)
Chumbak (Bohemian-modern style)
Other than this you can try in any retail store like Landmark or those cute small Japanese stores- Miniso.
To conclude, there are many things that are not mentioned because either they are very small items and won't be the best option as a gift like sticky notes/ stickers/ labels/ markers/ pencil stand/ wooden clips and so much more but if you plan to pack a little bit of everything then don't forget to add these too. These are little details and might not look like a suitable option as a gift to many but trust me we love our stationery more than anything. A well-organized desk and stacked stationery essential is like therapy to us. We can spend hours on the desk to work once we set up our space which is very important while you work. Who likes to work in a dull environment, this way you can add the colours to your daily mundane life too! I hope this was helpful for you to find the right gift for your friend/loved ones. Gifts for stationery