Set A Style Statement with Designer Anarkalis!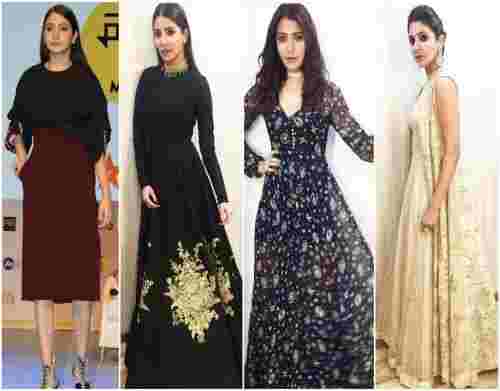 Anarkalis have been enduring on the fashion scene for years now. Women just can seem to get enough of this comfortable, beautiful and versatile dress! It's so popular that it has become known world-wide as Indian bollywood anarkali suits! One cannot say enough about this particular piece of garment. It can be tailored to wear at any occasion from weddings, to concerts and functions to office parties and just a night out for dinner!
No matter where you want to go, there's an Anarkali that would be ideal for that occasion. You will have no shortage of choice online! From very simple to very ornate, you will find everything you need in online stores like stylistmyntra.com. Just check this few pieces of their collection out!
This colourful dress is just ideal for small parties, special dinner outings and birthdays! The jewel coloured blue is regal and the red, yellow and white border just adds to the beauty of the dress. The machine embroidery in white, red, yellow and brown just pops in the backdrop of blue. You can't go wrong with this colour combination because it would suit anybody! If you intend to give this as a gift to someone, go right ahead and do it! There are very few people in the world that dislike the colour blue, after all.
If this design or colour is not to your taste, you can find another designer long Anarkali dress online that would suit your preference. There is no shorting of designs and colours online and it's so much more convenient to shop from the comfort of your home rather than roam from one shop to another out in the market or in the malls.
The regal, stately elegance of this dress cannot easily be described in words. The bodice is velvety black with restrained white and gold embroidery while the panelled skirt is a rich, beautiful cream in colour with a heavy but plain gold border and just the right accent of embroidery on the side. This dress is for those of a more discerning taste, who know just how to use restrained elegance to their best advantage.
This beautiful piece of art can be worn at grand parties as well as wedding receptions. The lack of any bright colour certainly doesn't harm it. Just brings a sophistication to the dress.
You can be young and playful in this free-flowing pink number! This is definitely a dress to be worn at an Indian wedding, exuding joy and brightness. The bodice is blue with heavy cream and gold embroidery, adding a sense of richness to this dress. Certainly an eye-catching dress that would make you stand out anywhere! Buy anarkali suits online and you'll find many more dresses like this.
It is so much more comfortable to buy Long Anarkali online India from the comfort of your home! All you have to do is go to sites like stylistmyntra.com and browse through their collection. You won't be disappointed.