Time To Revamp Your Wardrobe With Uber Stylish Anarkalis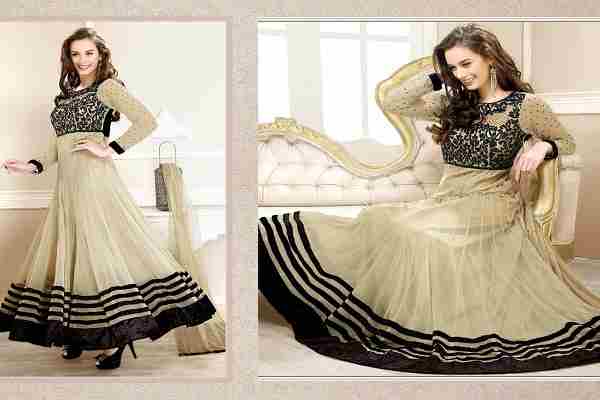 Are you perplexed by what you should wear every time when there is a party or a festive celebration to attend, or whenever you are going to a wedding or a house warming party? Do not worry. Most women find themselves in a fix when it comes to deciding what to wear. Well, there is one attire that can make you look elegant as well as put you in the lime light. Yes, it's the outstandingly stylish long Anarkali suits. An Anarkali suit is a perfect combination of the traditional and the latest trends that are sure to make you look every bit the Indian fashionista. Inspired by the floor sweeping gowns of the western style sense, these long anarkali dresses come in myriad varieties. These are usually A-lined which means that they are clinched at the waist with a well fitted bodice and loose and flowy waist down to craft a look that is absolutely awe-inspiring.
Anarkali dresses have been quite in vogue for a long time now. You might have also noticed your favorite bollywood celebs flaunting long Anarkalis. Bollywood celebrities have made it their favorite Indian wear as it easily lends itself to a variety of styling options. We have seen them sporting these awesome dresses at the Cannes festival, at parties, functions, social events, etc. This season amaze those around you with the awesome collection of designer long Anarkali dress that is available online!
If you are someone like me who really loves to wear stylish anarkalis similar to what actors like Kareena Kaapor wears or Aishwarya Rai Bacchan wears of even Deepika Padukone wears, then you can easily buy Indian Bollywoood anarkali suits that are available online and that too at pretty reasonable prices. You can easily buy a replica of your favorite Bollywoood dresses, all thanks to the numerous online stores which showcase an incredible and irresistible collection when it comes to long Anarkalis. So it's time that you don a look like one of the page 3 starlets and stun others with your uber stylish look. You can easily take your pick from thousands of dresses available. However, choose something that is in line with your body shape and flatters it. Given below are a few tips-
The A-line kurtis- The designer long anarkali dresses are your best choice for a glamorous evening outing. It would look more sophisticated if it is an A-line kurti which is well fitting as it is compatible with any body type and highlights all the positives of your figure. Irrespective of your body type, a good fit accentuates your body type.
The long floor length ones- the long floor length kurtis are usually the most elegant and feminine. This style of Anarkalis can be worn on any occasion to bring out your feminine charm. The demure, subtle ones can be worn for daytime events and the bright and gorgeous ones can be worn for an evening do. The flares to the bottom of the anarkali suits, which are gorgeous in themselves, make your designer suits look even more beautiful.
The net and chiffon anarkali kurtis- the anarkali kurtis made out of chiffon and net fabrics are the most beautiful of all. They are usually meant for party wear and are also embellished with beads and other sorts of embroideries. The thread work and craftsmanship involved in the anarkali suits make them a little expensive but they look very beautiful on any woman.
The empire line- the empire line kurtis are especially meant for those who have a pear shaped body type or those who are on the heavier side of the scales. The empire line glides over your curves and does not draw away attention from any of the problem areas of your body.
Anarkalis are integral to Indian traditional wear and can make any woman look elegant and gorgeous. So, buy long anarkali suits online today and be sure to look a diva in the ethnic outfit.