12 Spring Dresses Under $200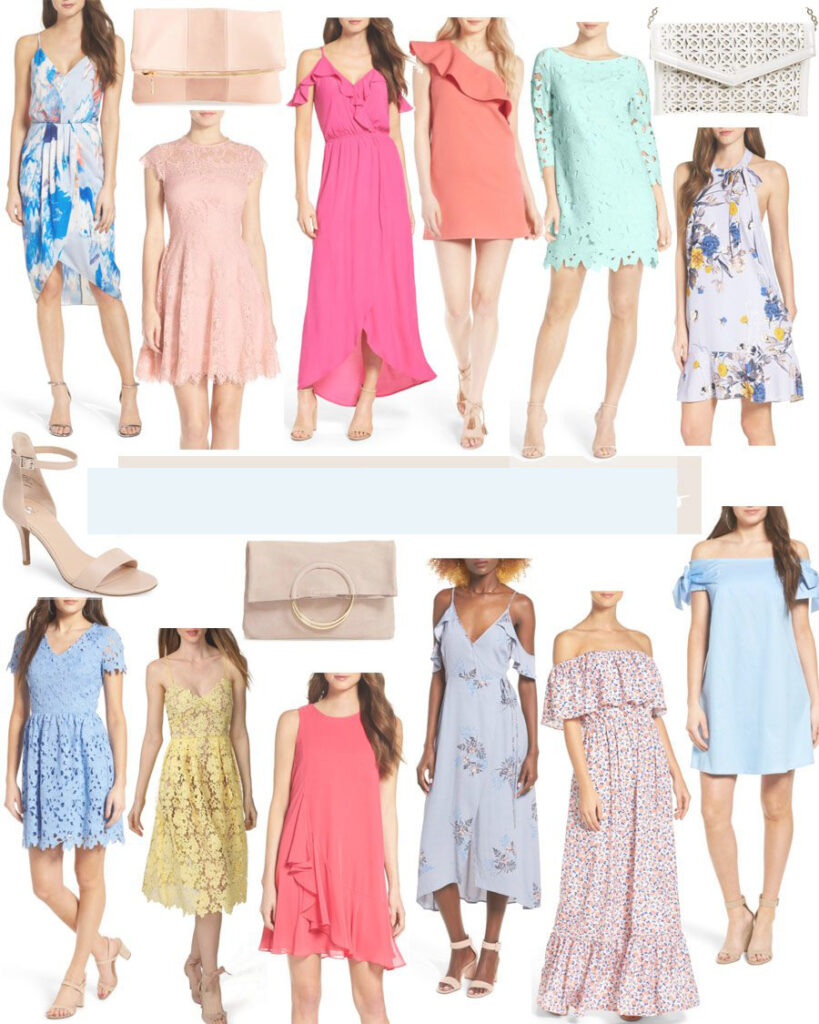 Are you on a budget this spring? Are you looking to dress up for a casual party? Or are you looking to impress your friends on a dinner? Or are you looking to dress to sophistication to impress your superiors in an important meeting? Well, we got you covered in just under the budget of $200.
Long Sleeve Wrap Dress | $39.97 (FRAICHE BY J)
Looking for comfort and fashion? A midnight blue long sleeve, surplice V neck jersey styled dress, perfect for spring and any formal occasions paired with cream stilettos and an accent necklace offers comfort and an elegant yet classy look. We suggest, a black clutch will just make your look pop even more.
Bell Sleeve Fit & Flare Dress | $53.97 ( ELIZA J)
Are you a minimalist with a hint of grace, this breezy Magenta Royale dress, encircling waistline with vintage inspired details paired with wedges or heels, is casual as well as work ready suitable for all seasons. Sliver stud earrings along with a classy bracelet will give you the courtiess look you have been searching for.
3. Dream On Floral Midi Dress | $34.96 ( BILLABONG )
This painterly float print body-con silhouette with surplice V-neck and cap sleeves that flows onto the knees paired with sandals or flats is all about comfort combined with style and fashion. We suggest a French- braid and a backpack to look formal and easy going at the same time.
V-Neck Jersey Maxi Dress | $47.60 ( LOVEAPPELLA )
The lightweight, sleeveless, plunging V-neck with ankle-grazing maxi dress skirt, while a faux belt with smooth waist band shape cinches you at the waist paired with nude lipstick and wedges topped with a black and white stripes handbag is the best to dance the night away as the dress moves with you.
Shoulder Shimmy Mini dress | $38.50 ( ROXY)
A fitted fluttering body sleeves and a sweetheart neckline with a tropical print meets a flowy skirt for a dress that is laid back and effortlessly sexy. Wear it with a pair of casual sandals or embellished black heels with beach waves to pick it up a notch.
Floral Print Dress | $89.00 ( ASTR THE LABEL )
A fitted waist line meets an asymmetrical skirt that flows to the ankles added with fluttery sleeves brings breezy and dynamic movements to this floral dress. Paired with black strappy heels will bring confidence to your radiant personality.
Plunge Dress | $99.00 ( FRAICHE BY J)
Tie-dye sleeveless skirt, a low slit, and a deep plunging neck line added at the back with a fitted waist band like smooth design. Pair yours with slick white sandals with shoulder-grazing earrings to get the look that turns heads wherever you go.
Alicia Mixed Media Midi Dress | $118.80 ( DRESS THE POPULATION )
Chic and effortless yet elegant and laid back, this dress boasts a flattering plunging neckline, pleated from the waist offering a monochromatic burgundy style, a dress all about the details. Wear yours with a pair of black colored block heels and flaunt your shoulders and neckline.
Flirty Day Puff Sleeve Smocked Romper | $59.95 (BILLABONG)
If a romper is more your speed, then this efforlessly puffed short sleeved thigh-high, squared neckline romper with tropial and floral design to make a statement. It will definetly put some spring into your step when paired with white sneakers.
Stretch Lace & Crepe Long Sleeve Jumpsuit | $188.00 ( TAHARI)
You would rather prefer a jumpsuit? We got you covered with this glittering lace sleeves and structured lace bodice with wide crepe pants and a satin bow at the waist fitted to perfection combined with platform heels and shoulder-grazing earrings to make a statement at a party or a formal dinner.
Elegantly Inclined Floral Print Wrap Gown | $100.00 ( LULUS )
In the mood for a picnic day at a park or a casual concert? This floral dress is sophesticated, strappy sleeves with a V-neck was crafted especially for a fun and out-going girl in mind. Wear this with nude sandals and your tacky braceltes along with feathery earrings, and you are dressed to perfection.
Elmaya Floral Strapless Gown | $120.00 ( CHI CHI LONDON )
It's rather tiresome to not flaunt floral during spring, so what's more flowers? This a strapless ball gown like dress that never gets out of style and most importantly, it's a party wearable and also to classy gallery openings
to easily blend in with the crowd wearing an elegant asymmetrical high/low hem that attracts attention right to you paired with silver stilettos with matching earrings and bracelets. Bonus, thrown in a floral creeper box clutch to kick it up a notch.