Choosing Black Prom Dresses? Remember these 4 Useful Tips for a Glam Look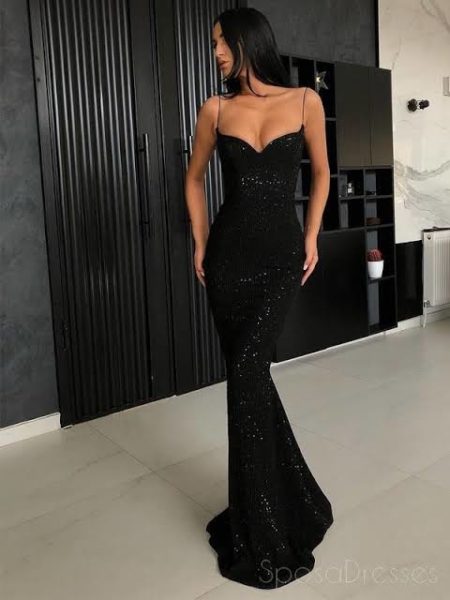 When the floor is filled with red, purple, or pink, you can steal the show just by wearing a black prom dress. The color doesn't indicate the lack of liveliness but it is all about elegance and sophistication. It is even safe to say that black dresses never go out of style. Obviously, you cannot go wrong with a black gown but why take the risk? Decking up for prom is not an easy thing but there are some useful tips to remember.
Black prom dresses have become unbelievably popular because they simply look great on everyone. Whether you are wearing a plain black dress or sequined, the perfect ensemble can turn all the heads towards you. Who knows you can become the Prom Queen? Since the chances are not rare, you should dress up for the occasion in the right way. So, go through the following tips and bring your dazzling self on the floor.
There is no harm in wearing a full black dress to the prom. For a newbie, it gets pretty difficult to accessorize. After all, one wrong color can lead to a lifetime disaster. That's why; you can stick the entire-black policy. In many cases, the addition of vibrant colors can make the entire outfit flashy. Instead of pulling the plug at a tender stage, you can play with textures. Make sure that you are choosing different layers of black. In this way, things can turn out to be unexpectedly well.
2. Don't Ignore the Little Details
Choosing a black dress and following the trend are the very same things. If you are picking a lace dress or sequined one, you will look nothing less than chic. A dress with intricate details is about presenting sophistication in a youthful way. For example, you can choose an A-line dress with a little shimmering detail. The sparkly feature takes the dress to the next level. In order to maintain the sleek look, a pair of classic black pumps will do just fine. Furthermore, the ensemble can get a touch of timeless appeal.
3. Black Mermaid Dress is above Perfect
Mermaid dress is a close-fitting outfit that almost every celebrity has worn to the red carpet once in her life. It is the perfect combo of glamorous and graceful. If you wish to add a dramatic effect at prom, then the mermaid dress is more than gorgeous. It does not exactly look flattering in every figure; however, girls with an hourglass figure can easily pull off the look. Satin, silk, and taffeta – these three fabrics are commonly used for black mermaid dresses. The silhouette is gorgeous and the unique fishtail feature strikes out in the crowd. Girls with larger chests should not be bothered while wearing a beautiful dress.
4. Flaunting Curves with Black Dress
If you are worried about that little baby fat, you are completely good to go with a black dress. The darkest color does a great job in hiding the visceral fat. If you go through the fashion look book, you can see how curvy celebs have been sporting black dresses for so long. Moreover, a pair of Spanx can do the contouring you have been craving for! Instead of focusing on insecurities, you can embrace your body on the D-day. If you are good to go, you can always rock a fitted black dress.
So, if you are tall and slender or curvy, you can check out the latest collection of mermaid prom dresses now. If you are confident with your look, you can start experimenting as well. When you do not wish to miss out on your favorite outfit, you better shop beforehand.
Author bio: Pedro H. Glover is a regular blogger who has published multiple articles on how to choose accessories for mermaid prom dresses. Here, he talks about the useful tips to remember before choosing black prom dresses.