My Gucci Mormont Bag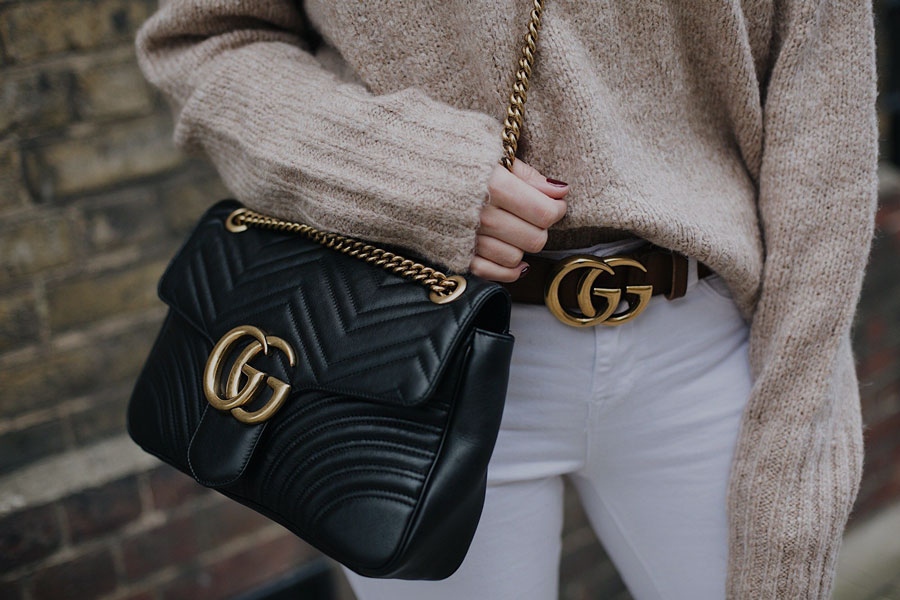 Generally, women's clothes are not blessed with as much number of pockets as that of men. Like we don't carry our phone, money, keys and handkerchief! In fact, on top of these basic things, we even have to carry our sanitary products, makeup products and much more. For these reasons we are in dire need of authentic purses and handbags. We even have to watch out for the style of the purse which goes with the outfit we wear. There are many different types of purses and handbags based on their shapes, sizes and uses. My favorite is the Gucci Mormont bags.
Gucci is one of the most famous brands in fashion industry. This Italian brand founded in 1921 covers almost all the fields in fashion industry by giving its customers a large number of choices in accessories, footwear, make-up, perfumes, home decoration, ready-to-wear and handbags. Debuted in 2016 Mormont collection took fashion lovers by surprise and made them fall in love with its every design. Gucci Mormont bags are soft matelassé leather bags particularly identified by the archival symbol from the 70's. The material used in production of these Gucci babies is matelassé which is eco-friendly quilted soft leather.
Here are some details about the Gucci Mormont bags based on their types:
Gucci Mormont Tote bag:
A tote bag is used for shopping purposes as it is larger in size comparatively and provides efficient handles to carry the heavy weight. The Gucci Mormont tote bag priced 2,122.48 euros, is a fashionable leather shopping bag with two parallel handles and an additional shoulder sling strap with one zippered pocket. It also consists of a magnetic closure system. Its height is 5'9".
Gucci Mormont shoulder bag:
A shoulder bag is generally used to carry minimum basic thing as its size is smaller. A Gucci Mormont shoulder bag of height 6" consists a classy shoulder strap as well as two handles with an interior zipper pocket and flap spring closure. This, 1971.90 euros beauty can be worn across the body as well as slung on the shoulder. A round shaped shoulder bag is also available in Gucci Mormont line.
Gucci Mormont mini bucket bag:
A bucket bag can be used for travelling and for various other purposes as its free space enables one to store many items of different shapes. A Gucci Mormont mini bucket bag is a cylindrical shaped bag available for 850 euros consisting of two card slots. This 6.18" tall bag has drawstring closure with a chain strap.
Gucci Mormont leather belt bag:
A leather belt bag is a handsfree waist belt bag to carry only essentials. This trendy bag can be used while cycling or travelling. Gucci Mormont leather belt bag consists of top zippered interior pocket with an adjustable belt closure. This high-waist belt bag priced 1022.88 euros, comes in different sizes. This 6.5" heighted bag can be exclusively used for sports.
A mini bag is a sling bag used to carry a very few basic items like phone and money. The Gucci Mormont mini bag available at 707.49 euros with zipper closure has two card slots. It consists of a chain strap and is 6.7" tall. This vertical designed bag ensures an easy carriage of essentials.
Some other Gucci Mormont collections include mini shoulder bags, hand bags, and other mini designs of the same soft leather and varying in colours like black, white, brown, pink, red, etc. There pattern varies in python, anaconda, and velvet. The Gucci Mormont collection holds the highest resale value collection due to its soft texture and versatility. The speciality of Gucci Mormont is that it not only gives you variety in color and size but also shape and pattern. You can buy a same but totally different handbag at the same time with the incredible options made available only for you. These Gucci beauties are some of the must have bags in your collection if you are a fashion freak like me. Going on with your every outfit for every occasion it gives you a chic look. Gucci Mormont satisfies the fashionista in you with its super fabulous collection.
The above given detailed collection of Gucci Mormont leather bags is what you need to complete your stylish looks. Gucci Mormont tote bag is a perspective bestfriend for a shopping lover. Gucci Mormont shoulder bag can bear all your essential with cosmetics. Your Gucci Mormont mini bucket bag can get you used to carrying more than essential things on a sunny day. Gucci Mormont leather belt bag can help you play without having to get handsy. And your Gucci Mormont mini bag can be there when you need just the essentials. Here you have whole package of beauty and versatility. Step out and shine with Gucci.