CELEBRTING THE WORLD OF FEARLESS WOMEN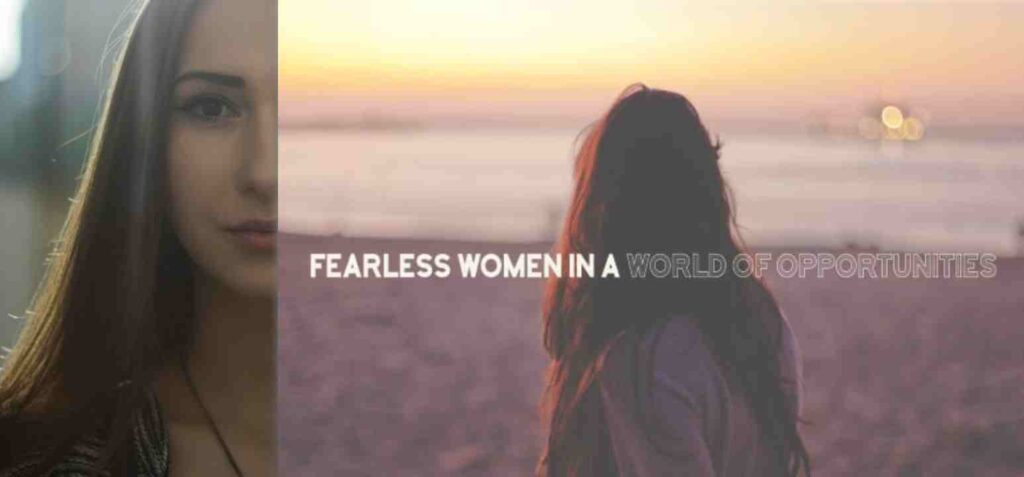 What does the word fearless mean? Being arrogant and rude and not listening to others doesn't define the word fearless. Showing resilience and never giving up policy during the tougher situations is the actual fearlessness. It is how confident you are and how you stand on your words through difficult phases. Women, the reason who we are and how we are, and where we are, are often discriminat against by society. A confident woman, a confident home
In India, women are given the utmost respect, but they don't have the freedom to go out and live on their own. Women are condition to stay or live in a particular manner. But the women these days are coming out from their own comfort zones and fighting for themselves. Women are raising voices against sexual abuse or assault, their rights, and competing for roles or jobs in various fields.
Though Women are physically they are second to none. The world has been witnessing the girl power with various successful women performing in various different sectors. Women are in politics, acting, sports, and games such as cricket and wrestling, they are in engineering, medical, and everywhere whichever field you take. They are not only sustaining in but they are successful in their respective fields(areas).
Women are empower and words like girl power are in use. They are moving together by helping each other as a whole. They are forming groups, organizations and motivating other women to come out and express themselves and work on their areas of interests. They are funding women who are desperate to work and showcase their talent. Several activities like TED talks ,summits are also taking place to encourage women and help as much as they can.
Several women are leading by example. Hillary Clinton was about to make history by becoming the first female president of the USA. But missed by a near margin. Though she lost, she gave the energy for women all over the world to fight. Mother Teresa who dedicated her life to charity and humanitarian work is one of the most selfless humans. Her efforts were recogniz and she was award Nobel Peace Prize in 1979.
Women with children are also working to give their best of their own taste of work. We all might have listened about the Harry Potter and how huge success this series was. Harry Potter is one of the most sold books of all time. The author of the series J.K. Rowling who is a just a housewife before has tast success by becoming a millionaire with the success of Harry Potter book series which was later turned into film franchise. She was suffering with the loss of her mother before she started to write the book. She came out of her sorrowness and she found a way to get out of it and now she is one of the greatest authors of all time. We all know how enthralling and entertaining the Harry Potter series is.
Malala Yousafzai, known as Malala is a Pakistan activist. She is the youngest Nobel prize laureate. She strived for the female education and for the human rights especially women. Women are not treat equally as men in Pakistan right from the word they were born. They don not have the freedom or right for education. Malala fought against these gender discrimination and turned her advocacy into international movement,
Serena Williams is one of the most iconic tennis players of all time. She became a representative for the Women on and of the off the field. She fought through the media controversies, racism and sexism. She ruled women's tennis for almost 15 years. She has won 23 Grand slam titles the most by anyone. She has won 4 Olympic Gold Medals. She is the highest paid female athlete in the world. She posted her support for Black lives matter .
she also fought for the gender equality and received some awards for her activism. She also donated her prize money to the charities for the social works during the earthquakes etc.
As we look up into history there are various women who held out their hands when no one does for the women. We can take the examples of Joan of Arc, Rani Rudhramadevi, Jhansi Lakshmi bai, Helen Keller, etc.