Dazzle The Evening Away With The New Prepossessing Designer Salwar Suits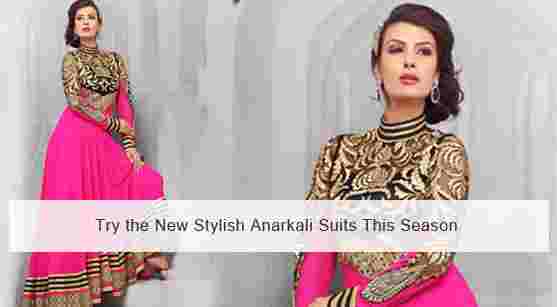 Salwar kameez is the most alluring piece of traditional wear for women. People say saree is the ultimate dress for women but this thought will change looking at the enchanting collection of salwar suit designs that are available at stylistmyntra.com. Buy salwar suits online from this amazing website that has a wide range of the latest designs endorsed by Bollywood divas.
The three pieces of each garment are unique in their own way. The main attraction of the multi-piece dress is any one of them can be the centerpiece. The dress material in itself can be spectacular as well as the designer cut can change the whole look of the suit altogether. Some adorn a contrasting dupatta while others prefer a stunning dupatta.
Let us look at the three following new designs of salwar suits that show how elegant a lady looks in this beautiful traditional attire.
This gorgeous party wear Anarkali is stunning. The top is a combination of pink and purple on georgette whereas the bottom is black. The neckline and the chest is filled with beautiful machine-made patterns, which makes the dress so perfect that it works without a dupatta. There is hardly any need to wear jewelry with this drop-dead beautiful piece.
This black and golden piece is ready to look like a Bollywood show stopper. Not just Kareena Kapoor Khan, but even you can look this attractive when you put this on. The top is essentially on chanderi cotton material. The black colour of the top gives an amazing contrast to the golden marvelous embroidery work over it. Thus, the bottom needs no extra works and the santoon lower in black totally complements this beautiful Bollywood diva suit.
Finally this blue straight party suit. This will make you the most stunning person at any party or event you attend. The three pieces of the soon are made up of three different cloth materials that help accentuate the beauty of the dress. The top is of georgette, santoon bottom with nazneen dupatta- a killer combination in blue. The embroidery work on the chest, the lower end of the top as well as on the dupatta is stunning. Have this one dress and you can rock a number of parties.
So buy salwar suits instead of saree. Make every other woman jealous of the elegance, sophistication, comfort, and confidence that these designer salwar suits bring on. You will no more need costly jewelry or artificial makeup to make your loved one fall for you. Just order a gorgeous designer salwar suit and be the diva in your spouse's life.
SOURCE URL: https://www.apsense.com/archive/dazzle-the-evening-away-with-the-new-prepossessing-designer-salwar-suits.html