The 3 Greatest Moments in Eco-Friendly Retro Fashion From The Yellow Peg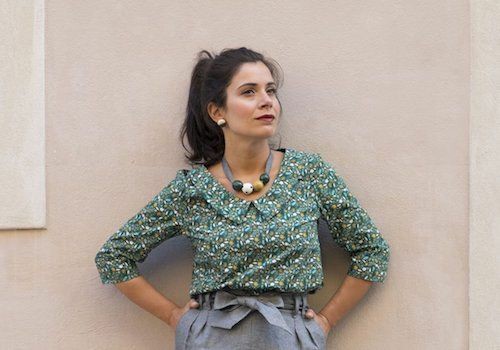 Let's first know about the retro style. According to the Wikipedia, it's a style that is imitative or consciously derivative of lifestyle trends or art forms from the historical past including in music, fashion or even in attitude. It's refers to the " nostalgia cycle".
In the world of fashion, retro is now the talk of time. In the 1980s and early 1990s, pastel and neon colors were on trend and surprisingly there was a revival of these in 2000s and 2010s. And fun fact 1980s pastel was actually a rebirth of a 1950s trend.
Now have a look on the Yellow Peg collection. Simona, the former computer scientist and self-taught seamstress, in her bright and tidy studio cum retail shops, stitches up each timeless and tailored Yellow Peg dresses, blouse and headbands only by using natural fabrics and moreover some of which are printed with her own original motifs.
In her own words," I think people are becoming more and more sensitive to quality, both in a way clothes are made and materials they're made of, I try to make that my number one priority and to let all my customers know I value them." Who doesn't love cinemas and to style ourselves by the very own cinematic sequel is our all wish. With the new Yellow Peg collection launching every fall and spring season, you get a plenty of outfit options for living our wish.
Just see how Simona Ullo picturized the Yellow Peg customer as " She's a positive person who gets excited about the small things life has to offer. She loves nature, she is curious and makes happiness her number one priority every day. She loves to add a retro touch to her outfits, and believes in a more sustainable way of building up her wardrobe." It's the way she visualizes, as the heroine of a whimsical indie film, scootering around the street of Verona, Italy where her business is based, visiting flowers market and art galleries, and staging tiny adventures for herself all while impeccably dressed in the Yellow Peg's carefully constructed
A bit of personal information about the creator Simona. Why does retro fashion attract herself the most? For almost three years, she had experienced a lot of styles and designs. And she values her customer's feedback and learns from there too. Now coming to retro fashion, the vintage inspiration was always there and she proudly said that it will always be there – especially from the 50's and ' 60s. And she considers that these are a core part of her brand. She loves the fact that the women's figure represented as always delicate, chic and no ostentation.
Her mission is to reinterpreted that aesthetic into something modern and can be wear on a daily basis. She had a remarkable journey from a design idea to a finished garment. Her new designs come out when she laughed her S/S collection in March and A/ W collection in October. Though she researches into what the next season's trends are but she believes in her own personal statement, so what she usually does is – combining the latest trends with her own ideas and inspiration and create something distinct and indeed a remarkable.
She also tries to make sketches of the new styles with the materials she would like to use. Recently she has started designing her own fabrics, this helps in making her products even more unique. After completion of her designs, she got started with the pattern-making process and she works until she gets what's she wants. Then they either become a new sewing pattern or part of her clothing and accessory collection. And the last is the advertisement by photoshoot and marketing strategies.
Talking about her work place, Simona shared that she moved from her small home office to a studio in 2017. A cozy and creative place is her desire space. As vintage is her inspiration, this her workplace is also decorated like that. Walls with '50s fashion prints.
She believes in the motto.' wear your dreams'. So definitely customization is an integral part of her business. Creating something new and unique is her goal. The most popular of her products is undoubtedly her headbands. She wanted to create something inspired by the pinup headbands used back in the '50s, but with an easy – on design.
She came out with TYP patters, with a lot of new designs by the end of 2019. For more information and latest design, one can follow The Yellow Peg on Facebook, Instagram, Pinterest, and Twitter.