The wardrobe essentials every man should own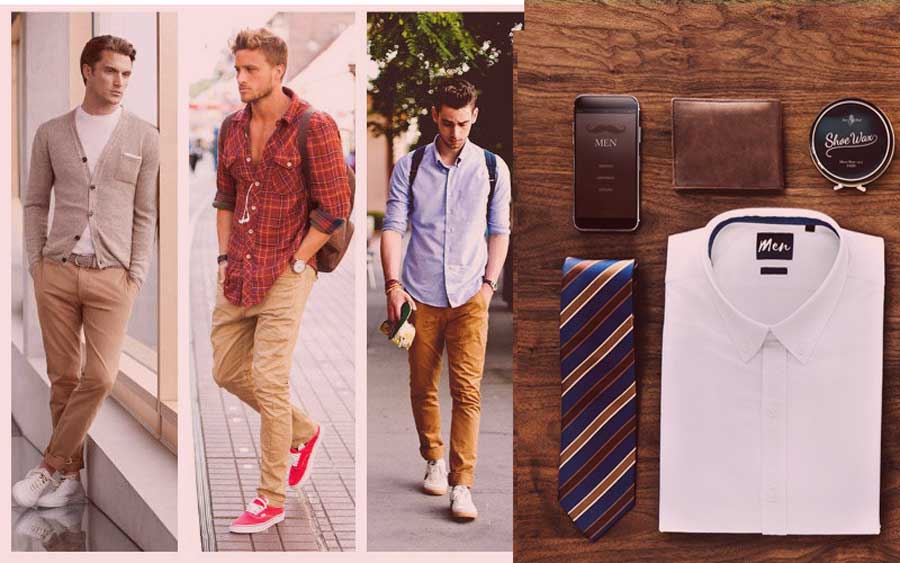 It was on a random Sunday morning I was lying around with John binging FRIENDS on Netflix. I was commenting on one of Racheal's outstanding outfits when I suddenly noticed that John had a coat just like the one Joey was wearing. I told him and he too agreed that would dress as Joey Tribbiani on my birthday. And that was the moment he uttered the words of absolute stupidity. He said, "I need to buy a black t-shirt, though." To say I was astonished was the understatement of the century. Like, even that grandpa living in our neighborhood must be owning a plain black t-shirt. To just confirm that my ears were working appropriately, I asked him once again to know if he was really that stupid to not own a simple black t-shirt or shirt. But no, alas! My ears were fine but my boyfriend wasn't. And I was going to change that. No, not my boyfriend of course. That fact that he did not already own some of the basic must-have wardrobe things by not only men, but everyone.
Sometimes we try to pay attention on many details, new trends, expensive styles and flashy looks that we forget the basics. There are some basic things in wardrobe which every man should own. For festive as well as everyday use, essentials every man should own the following things in their wardrobe:
Black and White:
Every man should own a black and a white shirt as well as a t-shirt. Needless to say, black and white do not need any particular contrast shades of any certain colour to be matched upon. These outfits can be a part of formals well as informal clothing. White colour t-shirt or shirt can literally go any dark shade and black shirt of t-shirt on the lighter shade. Any type of jeans or pants can be paired with this duo. So, if haven't bought yet, you really need to visit your closest shopping store and buy these lovelies!
2) Brown belt:
A belt is an essential accessory in a men's wardrobe. A brown belt on a suit or a blue jeans feels like royalty. It intensifies the look by the contrasting and standing out in a decent way. Black belt is suitable with any pant with looks. A belt enhances your look, along with keeping your pants on your waist. Belts can be used worn on formals as well as informals. Even if your pants fit you, a belt completes your look.
3 . Black and blue jeans:
To consider this fact, you may already own a black and a blue jeans. But how could I keep these from the 'must have' list? And whose to say you might be a formal freak! Black and blue jeans can be styles with anything. Any coat, jacket, hoodie, or a suit jacket can go with these. And the greatest benefit of these jeans is, they can be paired with any color. It can be contrasting or same. Black and blue jeans are literally the go-to outfits. If in emergency, keep these at hand and wooosh, there you are, ready and handsome!
4) Hoodies:
Tell me a more comfy option of clothing and I promise I will share my pizza with you. Hoodies are warm buttonless front closed jackets with a joined cap. Hoodies are the universal definition of comfort. Want to go for a stroll in a garden on a chilly evening, pull on a hoodie and step out. Hoodies can also conveniently convey the bold message of 'I don't care.' (That's why I wear those to family functions. 😉) On a serious note, hoodies can be worn to any informal event. They can also be paired with a jacket or a coat for extra warmth and a cool look.
5) Joggers:
Joggers are trousers which loosen up in crotch area and tighten all the way down to ankles. Joggers are made for easy movements so they are generally worn during workouts and can be classified as sports-wear. Joggers are trending outfits in the fashion world which gained popularity in a short time. Joggers give you a cool and casual look. Joggers can be informally paired with loafers or sneakers.
6) Black scarf:
Scarves generally make an outfit more remarkable. A black scarf can be worn on any suitable outfit on coats, jackets or even some simple plain shirt. It also brings more warmth and can bring help you pull up a vintage look. A scarf is a must carry in cold mid-winters to keep your neck warm. A scarf can be worn formally but it suits more on an informal look.
These are some basic essentials every man should own. Also, suitable watches, sneakers and other accessories can bring up your looks. Pair your outfits casually and suitably by keeping in mind basic ethics of dressing sense, and you will be all fine to parade along.
Sticking to basics without trying hard can also do some much good sometimes. It is well said that there is purity in simplicity. Sometimes it is fine to avoid high budget, expensive for casual and comfortable. Choices of every individual are independent and need not be same. Some may feel comfortable in some clothes while others won't. and it's completely normal to choose your basics. You need not dress in a certain way to impress. You are fine with your type of basics!