Three easy men's wear trends to try now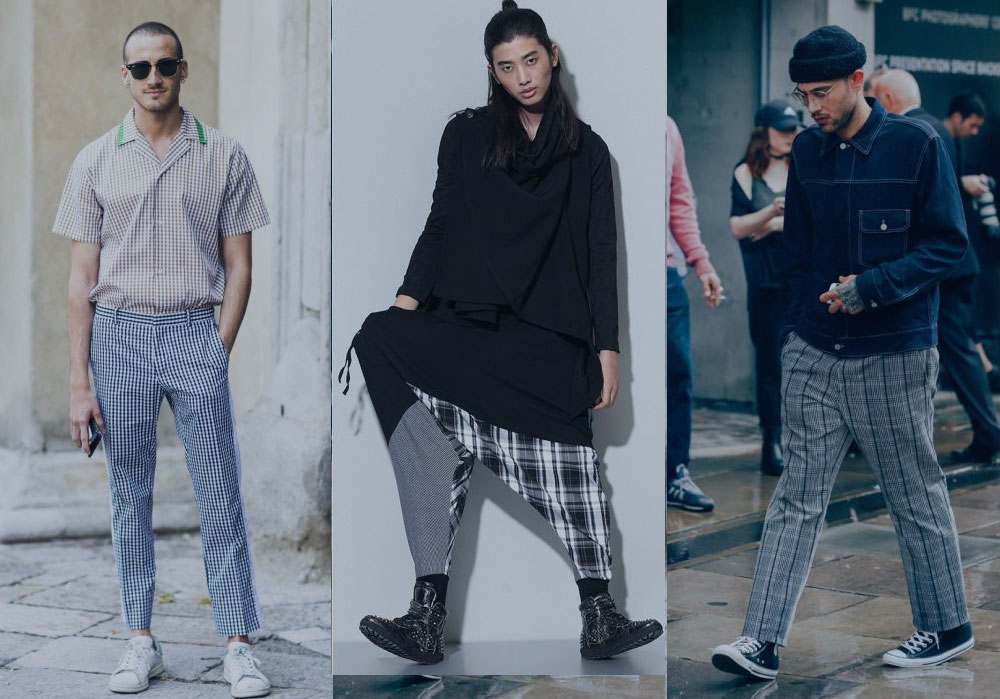 Everyone has choices. Yes, that's what I am going to start this blog with. Since childhood, I have grown up hearing men do not have as many choices as women. But that's false. Growing up in an orthodox family, I saw all the men in my family religiously wear society's ideally selected clothes for years. No questions raised and hence no change brought. They were fine with it because they thought they had no other option. But little did they know that men, right from long ago had many choices in their attire. Right from hats to shoes, from coats to pants and many more. And there is more to it. It keeps on adding to the list as men have taken the liberty to discover their choices and desires further than the boundaries set by society. It's already high time people now learn to accept that everyone can have different opinions, whether it be of clothes or about their life.
men's wear trends at present speed are taking over the globe as fast as this virus. And the only rule is no rule. You wear it with a confident smile and you are as good as to walk for the Tommy Hilfiger. These trends vary from super detailed accessories to easy wear outfits. Here are a few easy trends for all handsome men out there to try: (All the pictures below are taken from pinterest.com .)
Baggy pants:
The trending super comfy baggy pants are apparently men's favourite these days. These are loose pants in which income cases are caught in the ankles. Pairing them with plain t-shirts gives you a drool-worthy look. Checked shirts on baggy jeans or a ripped baggy formal pant can give you a fresh look. A coat can do with a low crotch baggy pant of the same shade, with a plain tee inside. Also, the variety available in these baggy pants, right from pattern to colours and much more gives you a chance to match it with any of your available outfits in your wardrobe. Low drop crotch baggy pants are pants that are loose in the crotch area and tighten all the way down to the ankle. Skateboard baggy pants are loose pants with wide legs. These baggy pants also include baggy jeans, baggy formal pants as well as ripped baggy pants. Your baggy look can be completed with cool sneakers or casual loafers.
The flannel shirt is like the go-to outfit of men. Flannel outfits are checked patterned cotton clothing. From a frat boy to office going men, working indoor or outdoor, flannel outfits have been to the rescue for all. The most important feature of these flannel patterned outfits is that they can be worn in formal as well as informal events. Flannel shirts can be worn independently as well as underneath jackets and suits. Denims is the best friend of flannels. A denim jacket upon a flannel shirt or denim jeans paired with a checked shirt can give you a clean look. Tying them to your waist gives you a carefree trip look. Tuck them in your formal pants and there you go in work-mode. Along with flannel shirts, flannel pants are also in trend. Paired flannel suits are also available in the market for other formal occasions. Pairing flannel outfits with a plain white tee with a pair of plain white sneakers gives you a decent look.
Aesthetic looks are the new black of the era. The goal is to keep it simple as well as impactful. The aesthetic is a calm and collected vibe. The more I write about the aesthetics the lesser it is! Aesthetics are not a new entry in the fashion world. But I can surely say that its acceptance can be certainly seen increasing in people, especially on social media and in other fields of life. These looks include flannelled, ripped, plain, furry every pattern of outfit out there. Also, any kind of clothing like coats, pants, jeans, shirts, jackets can be used to get an aesthetic look. Pullover hoodies can be a short-cut to an aesthetic look. These hoodies are literally the easiest and comfiest wearables ever known to men kind. They come as a blessing when you really are in the dilemma of choices. (Yes, speaking on personal experience.) There is an occasional use of accessories like neckpieces, bracelets or rings to attain an aesthetic look, along with some headgears or beanies. The colours are cool and dull. Certain shades and combinations of white, black, peach colours are used. Bright highlighting colours are generally avoided. Suitable shoes can be styled with the outfit. Pulling up an aesthetic look can be quiet a handful of job. But once you get it, you won't ever regret it.
The casual outfits in your wardrobe like black and white tees, your black and blue jeans, your beanies, your printed shirts and your comfort zone are your style. Don't give up your genuine vibe to fit the men's wear trends. Trends keep on fluctuating high and low. Some can may end up resulting in a hole in your wallets while some can be affordable. What matters is not what you wear but how you carry it. You try to keep up with one trend which changes the other day. That is why you should not try to compete. I certainly don't mean change is bad. Of course, you can try whatever you like, but you should also keep in mind that your fulfilment is the only thing that matters. men's wear trends .