Do Up Your Nails This Summer!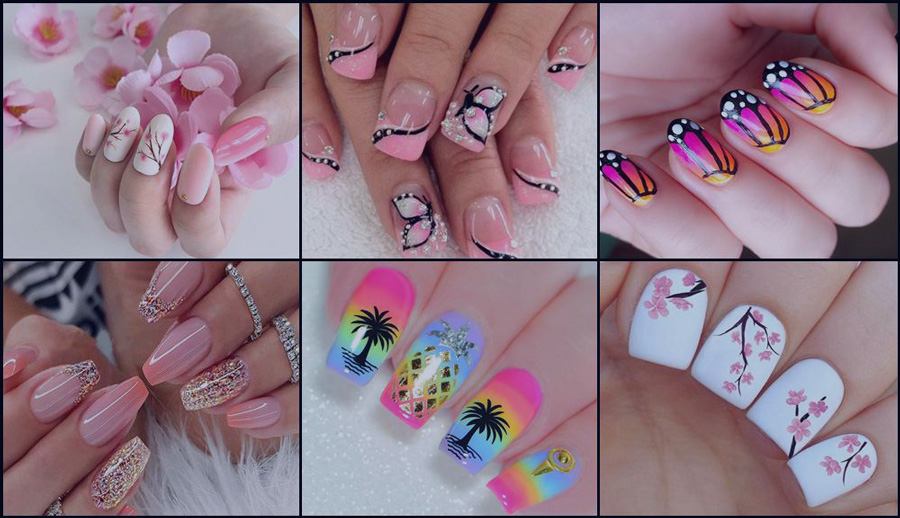 We take care of our health by eating healthy, focus on our beauty by pampering our skin but often forget to take care of our fingernails. One's fingernails speak a lot about one's personality. Trends in manicure like shaping nails in different sizes and painting them in various styles have taken quiet a popularity in fashion field. From young girls to adults, everyone loves pretty nails. Little girls whining to their moms about painting their toe nails pretty pink are a casual sight in households. Taking care of nails is not that difficult task. Although, if done in salon, manicure can cost you a little more than expected, but you can also do it on your own. You can take care of your nails in your free time. By paying a little bit attention to them on regular basis you can ensure healthy and clean nails. Cleanliness of nails also matter because if you eat your food with dirty nails you already have learnt what's going to happen in your first grade.
So, to take care of your nails in a proper way here are some ideas to try this summer. You can surely try these at home and surprise your friends with your manicuring skills. Well, pretty nails are never outdated. Here you go:
Shaping nails:
The original shape of your nails is square-like, but sometimes it can be asymmetrical or even some what chapped. You can shape your nails as you like with the help of nail file tool. A nail file tool helps us to even the nails from all the sides as you like hence, giving it the desirable shape. Although, too much harsh filing can harm your nails.
The skin around your nails which protects nails from dirt and bacteria is called cuticle. As delicate this skin is, it gets dry and dead if not taken care properly. To get rid of these dry cuticles, dip them in warm water and use a cuticle pusher. To keep your cuticles soft and moisturised you can use your moisturising creams and oils.
Hydrogen peroxide cleaning:
Hydrogen Peroxide is an anti-viral compound. Hydrogen peroxide can be used to clean nails off dirt or fungus. It helps to keep the toe nails clean, as our fingernails are not that affected by bacteria. Hydrogen Peroxide can be also used to whiten our nails. When using this compound, it is necessary to wash it off thoroughly after use and avoid the overuse.
Painting nails (solid colours):
Painting nails with solid colours can never be out of fashion. Nail art is cool but can be complicated and tiring if it's not your cup of tea. To keep it cool and casual, painting nails in single colour can be suitable. Also, matte type nail polishes are in trend and give sophisticated look to your nails.
Not a fan of solid colour but don't even want too much showy nails?
Cute minimalistic nail art ideas could be just the key for you to get your ideal nails. Minimalistic nail art is keeping it low yet classy by keeping the designing to its minimum. May it be just a stroke of another colour or little polka dots, minimalistic art is always the best when you want keep it professional as well as trendy.
Now, nail art consists it all. Right from painting to designing. Nail art is painting your nails with various types of arts and designs. Diamonds and small pearls on nails are trending this season along with rainbow painting on nails. Nail art is a wide field consisting of lots of creativity and miniature work, which can quite confounded but beautiful nonetheless.
If you don't want to grow your nails long, there is always an option of fake nails available in the market. Fake nails are used an extension to original nails to style your nails accordingly. These fake nails can be transparent as well as coloured or designed made available by many brands.
Just as painting your nails in a solid colour or designing it with different patterns, glitter is in recent style. There are simple glitter polishes available in many colours and glitter mixed nail polishes with solid colour to give your nails a shiny look. Glittery nails go super fine on dresses.
French manicuring is painting just the tip of your fingernails with a strip of white colour. It can be said as of the minimalistic ideas which gives your nails a posh look. Rainbow French manicuring is trendy which includes painting the tip of your fingernails with different colours of VIBGYOR. French manicure is my personal favourite because it doesn't take much time and goes with every look.
Garlic and lemon:
When life gives you lemons, whiten your nails with those! The vitamin C and acid in lemons whiten your nails. You can dip your nails in lemon juice or just rub lemons on your fingertips. Garlic contains a compound called alliin which turns into allicin when crushed. Thus, garlic can help you strengthen your nails. So, if your nails break too easily or are brittle grab a garlic.