Top 9 Styles of Sarees Which Are in And Hot Right Now in India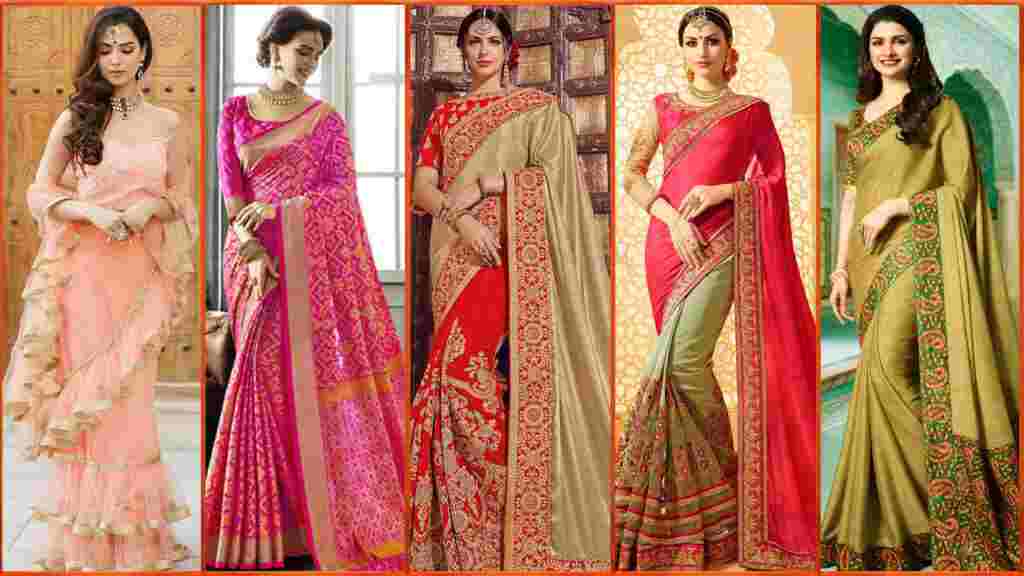 Saree trends change every year and so do draping styles. Sometimes old trends come back in fashion and at other times new trends are invented. What you must keep in mind while you buy sarees online is what is in trend right now and how should you make yourself more fashionable. There are various styles of Bollywood sarees online india which will leave you dazed and amazed with their variety and versatility.
Let us focus on the styles of indian designer sarees which are really in right now. Keep them in mind while you start shopping.
Double Pallu saree:
In these styles of designer wear, there is a crossed double pallu which falls over the shoulders. The rest of the saree is pleated normally.
Lace sarees:
Lace is a favourite both amond women and the fashion world. Nothing comes closer to the grace of lace. It can transform women into a fairytale princess in a minute. Lace sarees are very popular these days, especially sarees in white lace.
Sheer sarees:
Sheer is in, period. Who doesn't love a sheer saree? It is the hottest fashion item right now. Clear, sheer designer Bollywood sarees with designer blouses is a sensation in today's fashion scenario.
Dual bordered saree:
Manish Malhotra takes away the entire credit for such innovative dual bordered sarees. Kajol and Priyanka Chopra looked gorgeous in these colourful chiffon sarees at the Lakme Fashion Week 2013. The border on one flank of the saree is different in colour from the other flank.
Mirror Work saree:
Mirror work is eternally beloved for us. Mirror worked blouses or slight mirror work on the pallu and along the border looks gorgeous and enthralling. Arpita Mehta's creations got famous when Madhuri Dixit donned them on the sets of Jhalak Dikhlaja.
Half sarees:
Half sarees are sarees which have a two color scheme. The color of the upper half or the pallu is different from the section that is pleated and tucked at the waist. Sometimes one section has a solid color while the other has designs and prints.
Multicolored sarees:
Multicolored sarees usually have a splash of different colors for a glamorous and bold effect. For instance, Masaba Gupta's line of creations has indefinite neon, pastel and light shades for a stunning effect.
Neon coloured sarees:
Neon colored sarees with thin strips of red or pink borders are really in. It is cool for a summer or spring fashion statement. Stars like Deepika padukone and Priyanka Chopra often set the heat high with such bright neon shades.
Lehenga saree:
Lehenga saree is a kind of half saree that has a lehenga or gown like pleated skirt which is tucked around the waist and the rest of the section is pleated and left over the shoulders like the usual saree. Inspired from the South Indian style, this became quite famous when Chennai Express became a hit with Deepika Padukone rocking the nation with her lehenga style South Indian sarees.