Designer Sarees Are Like Old Wine In A New Bottle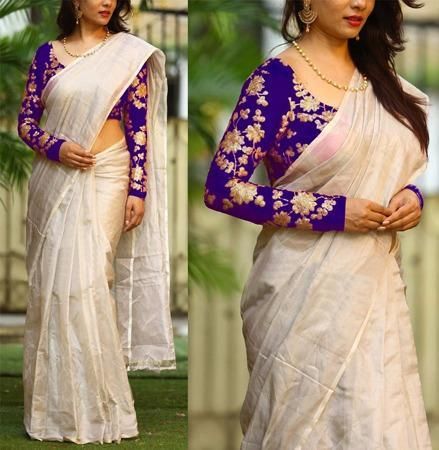 Sarees are no doubt the best friends of Indian women and when it comes to modern Indian women they choose nothing else but the best. Indian fashion, Indian embroidery and fabric were always loved by the West and today Indian designs of sarees have mesmerized the Western world by their excellence and brilliance. Fashion designers in India deserve much of the credit for such marvelous work in taking Indian fashion overseas. They could have easily draped Bollywood divas who attend international events in Western clothes to match Hollywood stars. But instead this array of fashion designers like Anamika Khanna, Neeta Lulla, Rohit Bal, Manish Malhotra, Sabyasachi Mukherjee and others chose to drape these beautiful women in something that would make them stand out in the crowd and leave the world gaping in awe of them. Indian divas have always been praised for their beauty and at recent events their beauty shone even more with dazzling designs of best designer sarees. These sarees are spectacular because of their elegance, sophistication, draping styles, design pattern and innovativeness shown in the creation. The popularity has risen to such an extent that sarees are being bought worldwide.
Designers are playing around with the traditional work of various artisans and giving them a new form and shape to make them even more appealing. Various experiments with cuts, stitches, patchwork, etc. are being done every day to set the standards of the saree even higher. Traditional Kashmiri stitch, zardosi embroidery, Gujarati mirror work, shell work etc. are being tried and explored to make newer and the most alluring creations ever made in the history of the saree. After all, it is not just a dress; it is an art that provides livelihood to millions of deisngers, craftsmen and artists in the country.
Making such breathtaking designs available online has been a boon for shopaholic women. You can sit at home and buy online sarees for women and even get to buy best deisnger sarees online that you have perhaps seen stars wearing to red carpets and other shows on the newspaper and magazine covers. Transform yourself to a transcendental level with a designer saree for women and feel special.
This green and cream viscose saree is just what you need to see the heads turning towards you as soon as you set your step somewhere. The otherwise plain saree is made extraordinarily beautiful with the wide red and yellow border with the floral motifs. The red flowers on the border do the trick and transcend this saree to a different level altogether. Team it up with an equally gorgeous black blouse adorned with floral embroidery to complete the look.
Georgette always leaves space for the best designs and once again this cream and golden designer half saree is no less than majestic. The wide, detailed red and gold border with very fine embroidery with zari threads makes you look queen like. Notice how the border work differs for both sections. The upper golden half has a different border in black and golden while the lower portion in cream has a wider border with black outline that absolutely steals the show for you. Pair it up with a detailed embroidered maroon high collar, V-neck blouse for the regal attitude.
Weddings and events in India are always grand and filled with pomp and show and in order to match up to that level you too need to look equally bright and captivating. This gorgeous designer saree is just tailor made for such occasions. The cream and yellow combination is one to die for and the wide zari and butta work border in red and gold adds volumes of awesomeness into the saree. This is suited for grand occasions and thus you can team it up with a heavily adorned, green full-sleeved blouse for the perfect dazzling diva look.