Add Glamour And Style To Your Look With Half Sarees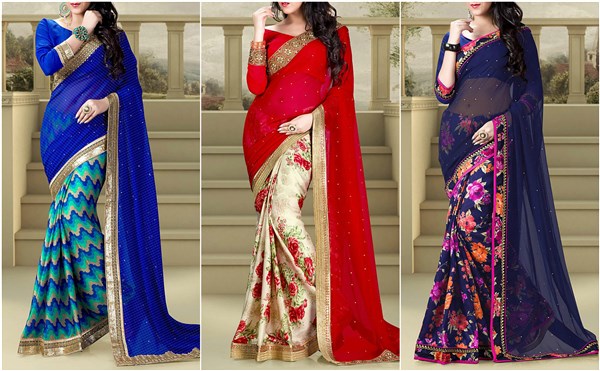 Traditionally, half sarees were worn by young South Indian girls, a bridge between the pattu pavadai (skirt and blouse) of childhood and the pudavai (saree) of womanhood. It comprised of a skirt and instead of a shirt-like blouse it had a saree blouse. A long dupatta was draped around the body that imitated the saree pallu. Modern designers have used the same concept to create half sarees that generally create the illusion that one is wearing a saree.
In general the half sarees are divided into two portions; the pallu and the pleats. It is common to have half sarees with different patterns in the two parts of the garment. For example, one type is where one half has elaborate print in the bottom and the other half is just solid colour. Conversely, the opposite pattern where the plain colour is on the lower end and the upper half is textured, embroidered or printed is also available. Some are even available where the two parts have contrasting but complimentary designs on both halves. Basically a half saree gives the illusion of three piece apparel, which is very appealing to the trendy and fashionable crowd of today.
Buy Designer Half Sarees from a number of places. These half sarees are the uptown fashion item now. They are fabulous on anyone from teenagers to women in their 60s. They're very flattering to every body type and can be worn for a workday and to attend a chic party. Half sarees are the most trending fashion statement now. There are many designers introducing new patterns and colours into the market. Their work is usually very pricey but totally worth the money.
However, one can buy half saree online India from https://stylistmyntra.com/sarees/ This website has the latest collection from all major fashion houses. Each piece is a unique on its own terms and undoubtedly a trendsetter. The sarees come in many different styles to be worn on the occasion of your choice. You can find a classy and smart half saree to be worn to your workplace or a very sassy and elegant one to rock any party you step in.
There are a number of places to buy half saree online. One can sort through each and every piece on these online shopping sites depending on the budget, colour, material type, pattern and even celebrity preferences. Many Bollywood divas are ensuring half sarees stay in vogue. They rock the red carpets in these ravishing pieces of beauty, making them look very charismatic. These six yards pieces are the most preferred traditional wear. Nevertheless, the half sarees are equally hip with the younger crowd because it adds a fashionable twist to the boring six yard drapes of a single pattern.
The online shopping half sarees is a very comfortable option. The fashion houses do have a number of options but they have limited stock of a particular piece and at times, it is unavailable. The online shops easily tackle this problem as they have a number of pieces of any design that you choose. You can see for yourself and decide on a saree depending on your own conditions. You can easily filter out the ones that are out of stock. Moreover, in case you find the saree is not up to your mark upon delivery, you can easily exchange it without any extra charges. This particular option is limited to very few offline shops.
Half sarees are the most modern and stylish garment for women at present. They are available in a number of mind-blowing combinations. It's like you can rock two sarees in one six yard garment, thus doubling the elegance of Indian drapes. These colourful sarees show off your playful, adventurous personality. Buy half sarees and give a brand new level of sophistication to your wardrobe. This is the kind of change that will flatter everyone and make you and your personality stand out.