Beauty And Convenience United In Half Sarees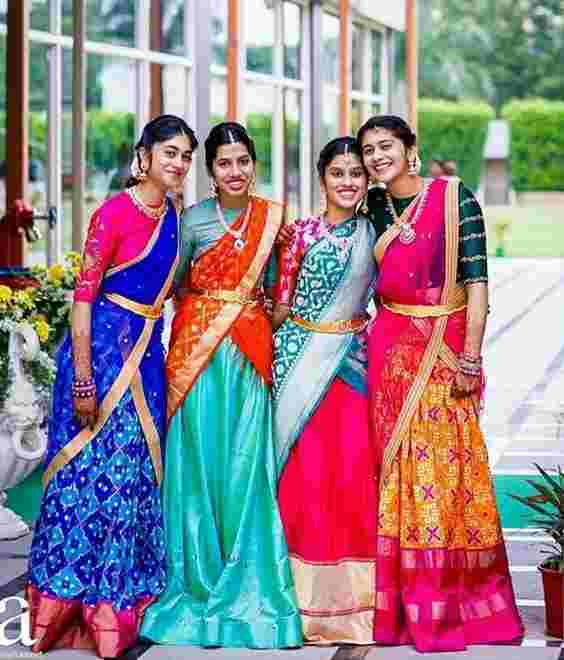 It might garner a few shakes of head and rueful smiles from the older generation, but the younger gen is embracing the phenomenon that is the half saree with aplomb! It is terribly convenient and doesn't compromise on beauty. Moreover, it is easier to wear. What's not to like about it.
For those who are unaware, half saree is essentially a pre-stitched saree. The bottom half is stitched with pleats in the front and you can wrap the pallu around you. The garment, depending upon the design, is something indistinguishable from a real saree. And sometimes, it is unapologetically, a half saree.
When you go online shopping half sarees, you're literally bombarded with choice these days. They are available in every colour, every fabric and every design you might wish. In online websites like stylistmyntra.com, you can find a veritable hoard of half sarees just waiting to climb into your wardrobe. Half sarees are flattering to every body type so you just can't go wrong with it.
There are some looks and combinations, though, that are classic. These are the must-have half sarees in your wardrobe
The little black dress version:
No wardrobe is complete without black. There's just something about that colour that just screams elegance and sophisticated style. When you go hunting online, you'll find no shortage of designer half sarees in black. It's just a popular, well admired colour.
Now, with black, understated jewellery and pulled back hair works best. Wearing black means being confident, it means bearing your face for the world to see and knowing you don't need to be adorned with gold to look rich. A simple pair of diamond studs or danglers would go along with your black half saree well.
Pretty in pink:
Ok, when I say pink, I mean all the different hues of it. You would be surprised at how many different shades of pink are out there. The palest rose coloured sarees are stunning on those with golden-hued or dark skin. Bright pinks go well with wheatish complexion and something just bordering on cream and peach suits fair ladies to perfection.
Pink is a versatile colour and a half saree is a versatile garment. Unsurprisingly, you'll find a large collection of pink hued garments when you look to buy half sarees online.
Sensuous in red:
No one needs to say anything about red. Red is hot and red half sarees are hotter. They've been immortalized on the silver screen on beauties like Susmeeta Sen and Kajol. Red it also the colour of Indian brides, it symbolizes the allure of a young bride and the liveliness and intensity of Indian weddings.
Again, you'll have no problems getting red half saree online shopping. There's no shortage of people who love the colour so you'll find a large collection of red half sarees.
Excluding the three wardrobe essential colours in half sarees, you can't go amiss with a little green and a little blue here and there. You can also brighten things up with a little yellow. Just check out sites like stylistmyntra.com to find the perfect fit.