Why Bother With A Full Saree When You Can Look Ubber-Stylish With Gorgeous Half Sarees!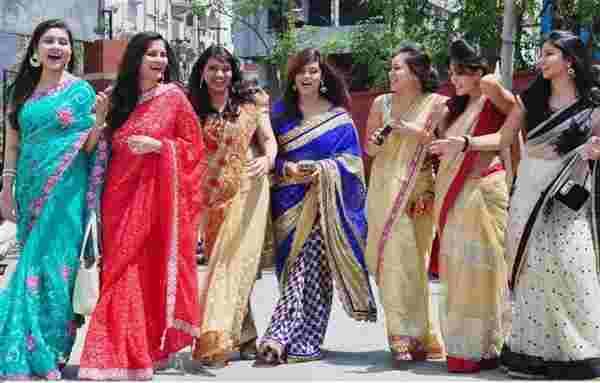 The title is a bit cheeky, but we can't say enough about the convenience of the half-saree. You're essentially killing two birds with a stone, after all. You have all the elegance and style of a saree and none of the cumbersome fuss that comes along with it. Even a novice of wearing saree can pull off an unruffled look with a half-saree, which is great. Not all of us have our mothers' dexterous, practiced fingers that pleat perfect pleats all the time.
We applaud those who can wrap six yards around them with flawless perfection but having a short-cut is such a blessing. It helps that there's no dearth of choice. Designer half sarees are all the rage these days and you get them in all fabrics, colours and styles. All you have to do it go online and online stores like indiarush.com have a massive collection for you to browse through. There is so much out there that you might just end up overspending.
The medley of colours in this saree is as near to perfection as anything can get. Pink goes amazingly well with the dark pistachio green. The deep purple border with gold detailing adds just the right touch, bringing the saree to life. Someone was being very smart when they designed this because, despite the bright colouring, this is an elegant, mature saree that would look good in evening parties and black-tie events. It has a restrained elegance about it that's very appealing.
The marvel is that there are more sarees like this out there, waiting to be found. One evening of browsing to buy half sarees online would yield many such gems.
Red, black and white is such a classic combination that it speaks for itself. All three colours are very flattering and this particular design is rather interesting. Alternating bands of white and black on the bottom is contrasted by a flood of red on the pallu. The restrained border of black with white embroidery on the pallu and the band of red on the bottom just adds those little touches that make a saree great. This is a great half-saree for a casual outing, a small party or a dinner outing. Sarees like this one are a great addition to the wardrobe; they're not something you can go wrong with.
Add a handful of these to your closet next time you go online shopping half sarees and you'll always have something great and formal to wear.
The great thing about Indian fashion that you can pull off bright, almost neon colours and still manage to not look ridiculous. This half-saree is a perfect example of that. The pallu is bright pink and orange but it is held back by the dotted cream body. The gold and black border pulls it back further, leaving you with an altogether elegant half-saree that would suit almost everyone.
Half-saree online shopping is fun, mostly thanks to stores like indiarush.com that have an epic collection.